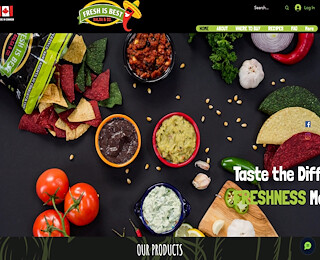 Salsa isn't just for special occasions anymore. Salsa is now a popular condiment that is finding its way to most people's refrigerators or cabinets. While there are a variety of salsas to choose from most of them are not made with high quality or natural ingredients and the majority of them are canned or jarred.  This means that in addition to tasting stale they may also have a lot of unnecessary ingredients such as preservatives. When you want the best flavor you want to choose only fresh salsa in Vancouver.
Buying Fresh Salsa in Vancouver
You can always tell when salsa is made with high quality ingredients because it has a bright and fresh flavor. According to many customers, Fresh Is Best sell the best fresh salsa in Vancouver. The only way to get fresher salsa is to make it yourself. Even then, it will take you a lot of time to shop for the ingredients, chop them up and create a tasty salsa. Instead, you can simply purchase our salsa from the deli section of your favourite grocery store or retailer in Canada.
Fresh salsa in Vancouver should include a variety of top quality ingredients to make it both delicious and nutritious. Our salsa is made using fresh tomatoes, fresh peppers, onions, vinegar, fresh-squeezed lime juice, fresh squeezed lemon juice, chopped garlic, fresh jalapeno peppers and cilantro, parsley and herbs. Your friends and family will enjoy the taste whether they dip chips or use it as a topping for chili or soup.
Ideas for Serving Fresh Salsa in Vancouver
Fresh salsa can be a wonderful dip with chips but it can also be so much more. Use salsa as a topping for a taco salad or add it to any meal to give it a southwestern flair. Salsa is tasty when it is used as a condiment with almost any food. It can be used in exchange for ketchup in many instances. It can also enhance the taste of many different foods.
One of the best ways to serve salsa is to simply place it on the table as a condiment with dinner. Your family or guests will be able to take a spoonful to top their vegetables or salad. It makes a great topping for steaks, chops and seafood. Just use a spoonful to add a delicious taste treat to any meal to make it more appealing.
About Fresh Is Best
When you want the freshest salsa available ask for Fresh Is Best. We make all of our products using only fresh, high quality ingredients. We started as a small company that sold salsa at the local farmer's market. Our salsa was so popular that we needed to expand. Now our salsa and other products are available across Canada.
Our product line includes fresh salsa, taco shells, tortilla chips, taco seasoning, hot sauce, fresh guacamole and fresh spinach dip. You and your family will enjoy the convenience, nutritional value  and fresh taste of all of our appetizing products.
fresh salsa Vancouver
Fresh Is Best Salsa & Co.
2503777555
1425 Cariboo Place
Kamloops
BC
V2C 5Z3
View Larger Map