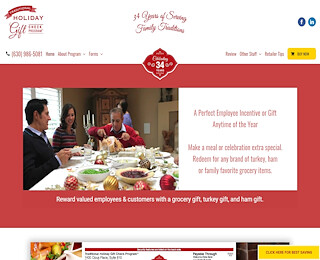 For more than three decades, Holiday Gift Check program has helped companies appreciate their customers by providing ham and turkey vouchers during the festive seasons. We believe this gesture should not be restricted to the holidays. The global pandemic has made it even more necessary to appreciate the employees that have risked everything to keep working and the customers that have stayed loyal despite the hard times. If you have been gifted one of our turkey or ham gift certificates, you may be wondering what to do with it and where you can redeem your gift. 
Where can I redeem my turkey voucher? 
Holiday gift checks are quite similar to regular business checks, and you can redeem your gift vouchers for turkey from any grocery store or supermarket in the country. When you present our ham gift cards at any grocery store, you're eligible to receive an equivalent dollar amount of your favorite brand of turkey or ham or any other grocery. 
A significant advantage of our gift certificate for turkeys is that they're also redeemable at Honey Baked Ham. The specialty store is the choice destination for many ham and turkey lovers, but they do not accept gift checks from most companies. However, we have been able to strike a relationship with them, and the bearers of our checks can redeem their gift at any of their 400 stores across the country.  
Our turkey vouchers are actual business checks and not gift certificates or turkey coupons. Thus, the individual redeeming the gift can purchase other items in addition to the turkey or ham. You may also choose not to buy ham or turkey but some other festive grocery items. You may get any grocery you wish as long as you do not exceed the gift check's stated amount. 
How do I know my turkey voucher is valid? 
Gift checks from Holiday Gift Check program have numerous features that prove they're a valid business check. They are listed at the back of the check, and they include: 
Micro Print "To the Order of" line: Small type that appears as a dotted line when photocopied
Line mark (watermark): Vertical rules appear when held up to light, does not appear when photocopied
Security Screen: Absence of "Original Document" verbiage on the backside of the gift check 
Our turkey vouchers at Holiday Gift Check program have an expiry date, and you should endeavor to redeem your gift before it expires. In the event that you're unable to do that, you can arrange to have the expired check returned in exchange for a new one. 
Contact us for your company's turkey vouchers
Do you want to put a smile on the face of your employees and customers without exceeding your budget? Our turkey gift checks are the best gift for all seasons. We have been in the gift check business for more than three decades, and we have helped bring smiles to the faces of tens of thousands. Contact Traditional Holiday Gift Check Program at (630) 986-5081, and we'll be glad to discuss how we can help.
Holiday Gift Check Program
+1 630-986-5081
1400 Opus Place
Downers Grove
IL
60515
View Larger Map